The last few weeks have been so busy. Busier than our normal 14 hour days. Betsy is teaching almost all day and we have nearly 20 horses in training (some of these are own)!
Also we've been trying to get Elliot and Tucker's last qualifiers for their respective three days. Of course with Elliot it's down to the wire.
We just missed a qualifier at Full Gallop in August by a handful of time penalties. It was pouring down with rain, and people were walking home left right and center, not to mention we witnessed a nasty crash in warm up right before we left the box. Needless to say, we just cantered around. He made it home like a champ with no jump penalties, but he had 38 time penalties, which wasn't much more than everyone else but enough that it wasn't a qualifier.
And of course Poplar wasn't a qualifier for him, though he came away a more educated horse.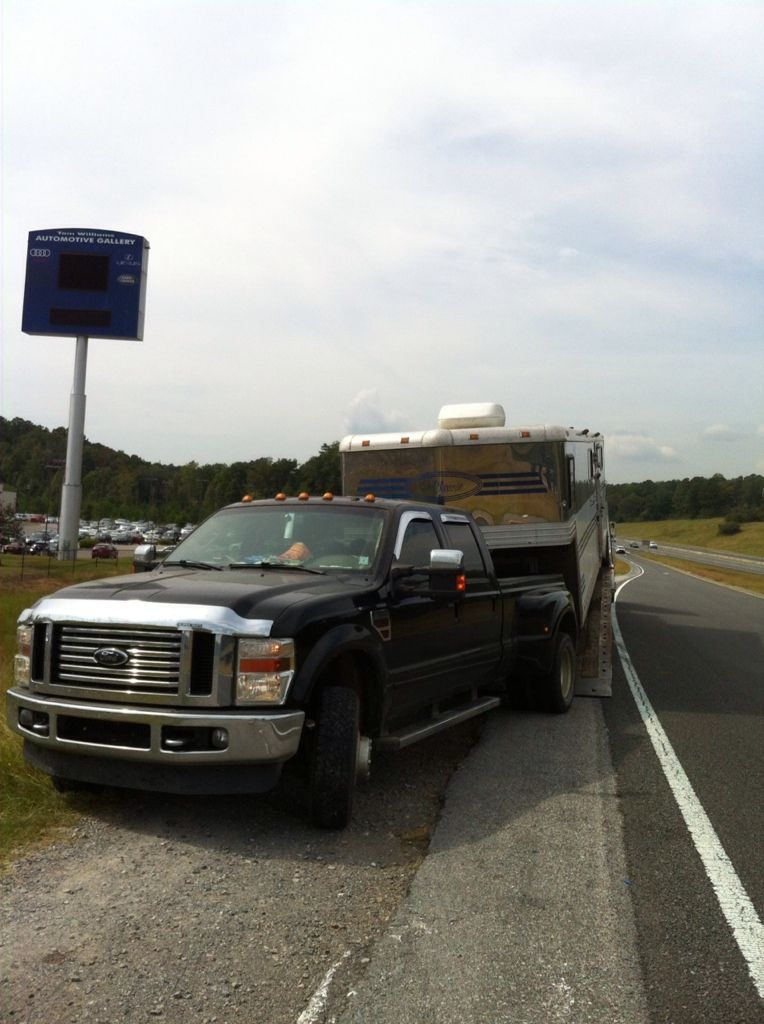 Two weeks ago we headed to Tryon, North Carolina to run the Tryon Riding & Hunt Club HT. We had a terrible trip there. The ball bearings gave out on the trailer and the wheel caught fire leaving us stranded on the side of the road. We were so lucky to have USRider's Equine Automotive Plan. They found someone to pick up our horses, a barn for them to stay at, a town truck that could come get the 40' long horse trailer (with some spectular backing up skills on Betsy's part), and a repair place to fix the problems. All this and no out of pocket expense except for boarding the horses for the day. So worth the $129 a year! Despite USRider's great help, it still took us all day to get horses and trailer situated and then back to Columbus to pick up the Imes's trailer (thank you, thank you!). We arrived at FENCE around 4AM. It was a very short night as we needed to be up for an 8AM ride. We unanimously decided it the extra hour of sleep was better for us and the horses so we didn't braid, which made us all feel guilty. However, dressage tests and show jumping were remarkably good. Elliot finally broke 40 and was so workman like in the ring. The following day he ran up and down the mountain jumping the corner, brush bounces, coffin, and all skinnies (off his hard left lead I might add) with only 4 time penalties. It was a confidence inspiring run. Kipling also ran preliminary, though he wasn't quite as fit on the mountain and so his round was perhaps a little less graceful. Tucker was amazing as always.
And since Sara-Pettey and I both needed one more qualifier we headed off last weekend to WindRidge Farm in Mooresboro, NC with Elliot and Tucker in tow. The ride was much less eventful thank heavens. I was at a Hanoverian inspection with Midway Farms riding Calypso MWF and then flew directly to Charlotte where Betsy picked me up. This time we got the braiding done and everyone was more well rested! Horses again were very good. Elliot scored in the 30s a second time and show jumped well (two rails, one my fault the other we just breathed on) and ran cross country like a dream. It was a great course for right before the CCI*. It included a proper corner, skewed two stride line, bank down-roll top, and bank up-stride-skinny. Elliot even easily ran inside the time. And of course Sara-Pettey ran around the training on tucker like a cake walk and got her final T3D qualifier.
Now it's on the the really important stuff... Jog Outfits!